Table of Contents
1. 미드저니 피자 프롬프트
와, 군침 돈다
야밤에 작성 중인데,,…
와… 인공지능 음식 그림 사진 대박 ㅋㅋ
1) 해당 키워드 미드저니 버전5 (Midjourney V5) 기본 표현 – pizza –v 5 –upbeta –q 2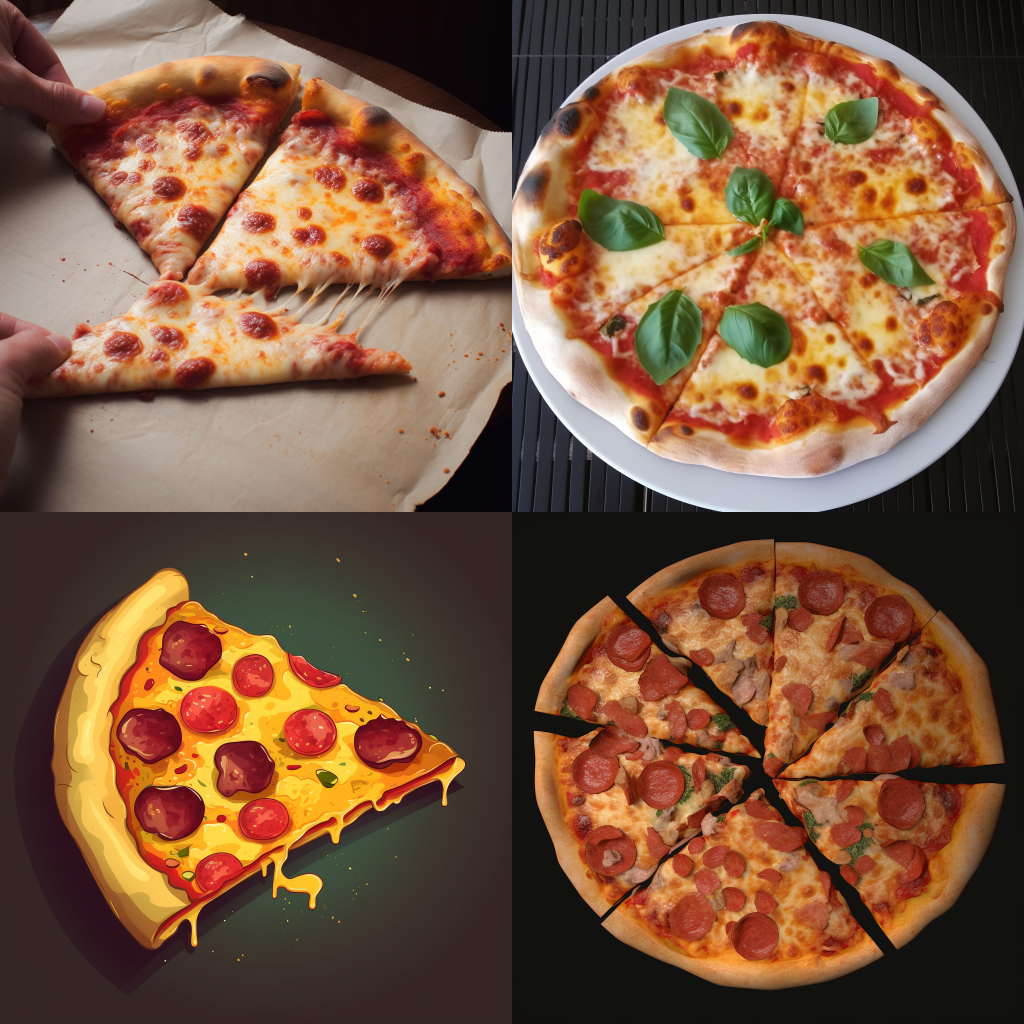 2) A delicious pepperoni pizza with melted cheese oozing on top, crispy crust, and fresh basil leaves sprinkled on the surface, set on a wooden table with a red and white checkered tablecloth, surrounded by a bottle of chili oil and grated parmesan cheese, Realistic photography with a Canon 50mm lens, f/2.8 aperture, –ar 1:1 –niji –v 5 –upbeta –q 2
녹은 치즈가 위에 배어 있는 맛있는 페퍼로니 피자, 바삭한 크러스트, 그리고 표면에 뿌려진 신선한 바질 잎사귀가 있는, 빨간색과 흰색 체크무늬 식탁보가 있는 나무 테이블 위에 차려진, 칠리 오일 병과 간 파마산 치즈로 둘러싸인, 캐논 50mm 렌즈로 사실적인 사진, f/2.8 조리개, –ar 1:1 –niji –v5 –upbeta –q2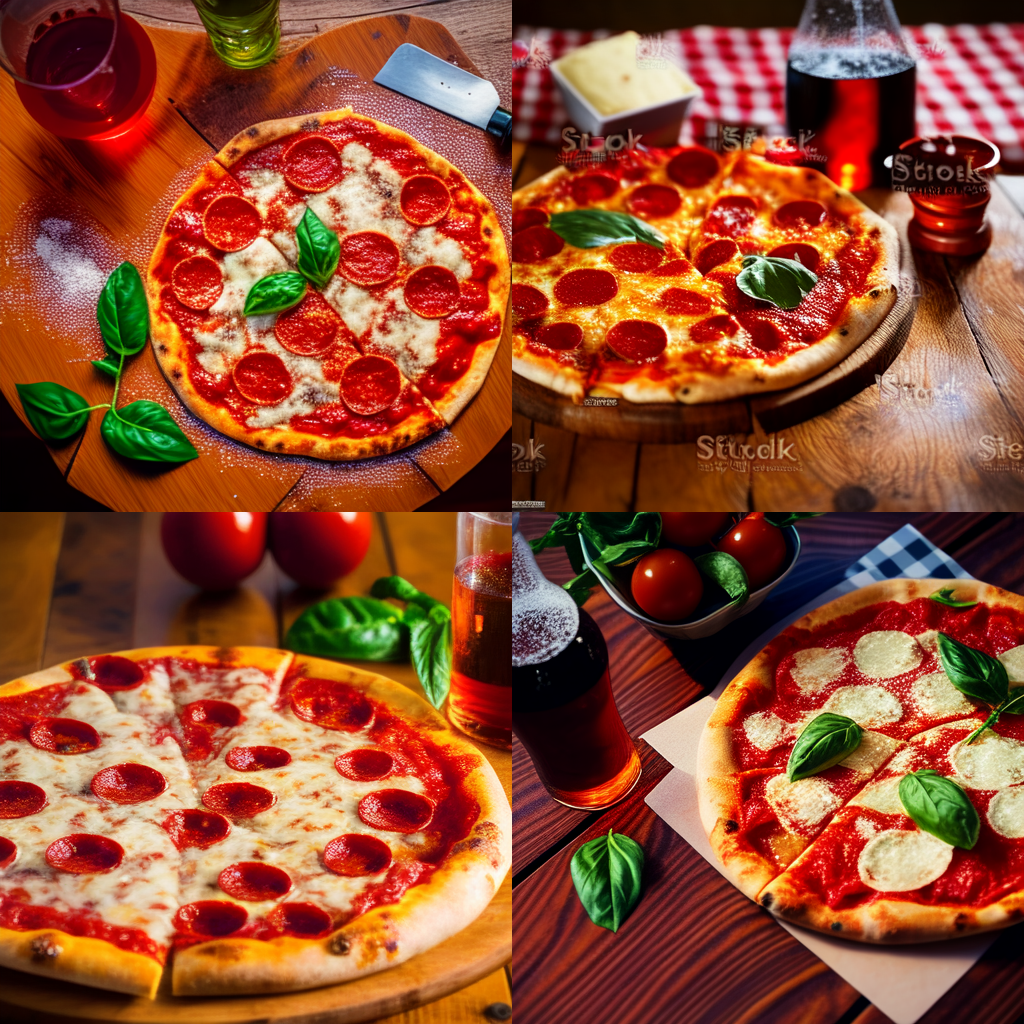 3) A savory pizza loaded with toppings such as mushrooms, bell peppers, onions, olives, and sausage, with a thick layer of mozzarella cheese on top, on a black granite kitchen countertop with a wooden pizza cutter nearby, captured from a bird's eye view, emphasizing the pizza's colorful toppings and crisp edges, Digital artwork with bold colors and textures, –ar 9:16 –v 5 –v 5 –upbeta –q 2
목제 피자 커터가 근처에 있는 검은 화강암 주방 조리대 위에 모짜렐라 치즈를 두껍게 얹은 버섯, 피망, 양파, 올리브, 소시지 등의 토핑을 듬뿍 얹은 고소한 피자가 조감도에서 포착돼 피자의 화려한 토핑과 바삭바삭한 가장자리를 강조하고 있습니다, 과감한 색상과 질감의 디지털 아트워크, –ar 9:16 –v 5 –upbeta –q 2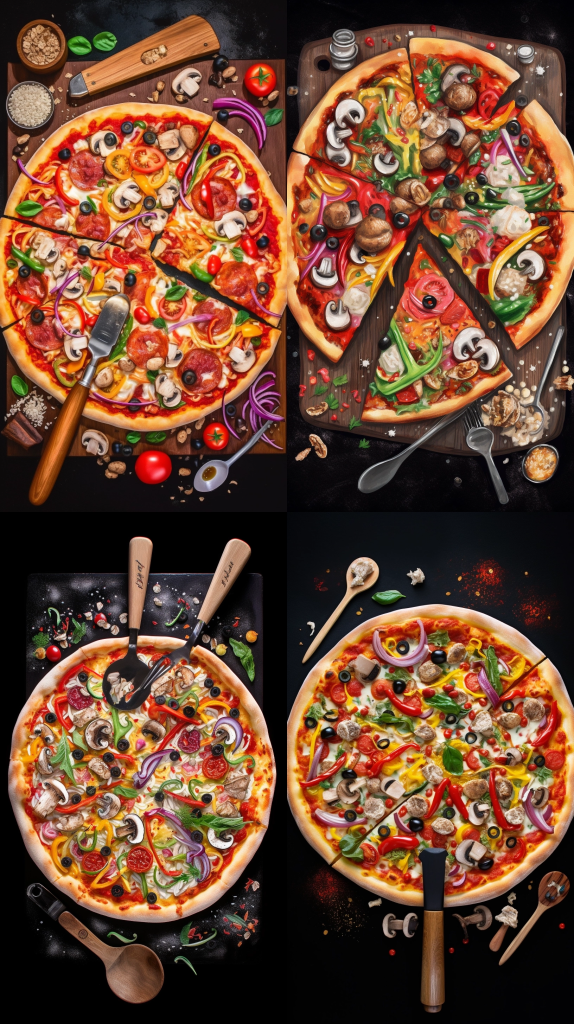 4) A scrumptious deep-dish pizza with a buttery, flaky crust, packed with layers of marinara sauce, sausage, pepperoni, mushrooms, onions, and green peppers, garnished with a sprinkle of oregano and red pepper flakes, on a cast-iron skillet set on a stovetop, with steam rising from the hot pizza, capturing the pizza's delicious aroma and mouth-watering texture, 3D rendering with realistic lighting and shadows, –ar 16:9 –v 5 –v 5 –upbeta –q 2
버터를 바른 바삭바삭한 껍질에 마리나라 소스, 소시지, 페퍼로니, 버섯, 양파, 피망을 겹겹이 담고 오레가노와 고추 플레이크를 뿌려 장식한, 뜨거운 피자에서 김이 모락모락 피어오르는 주철 냄비에 얹은, 피자의 맛있는 향과 군침 도는 질감, 사실적인 조명과 그림자가 있는 3D 렌더링, –ar 16:9 –v5 –upbeta –q 2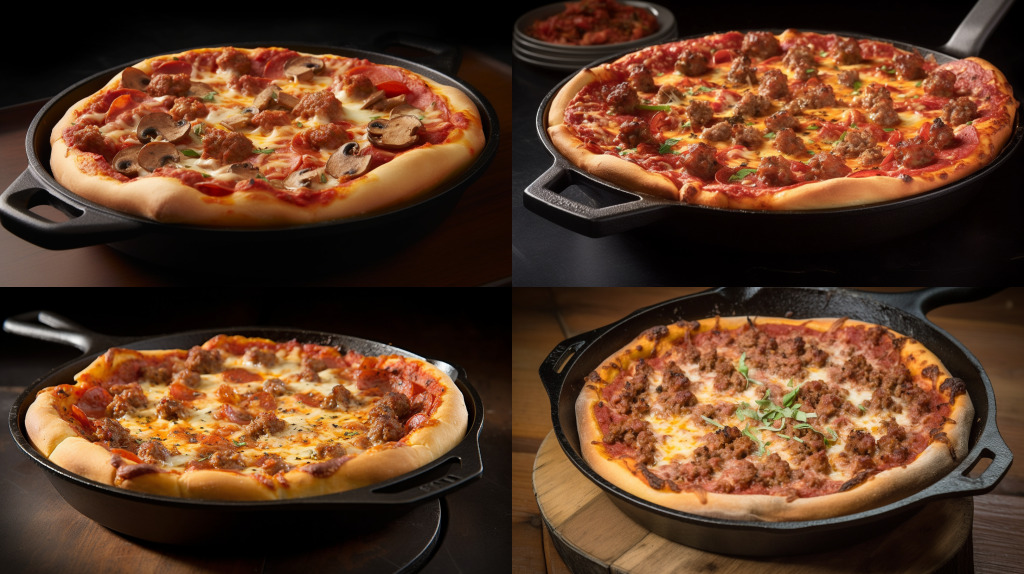 5) A delectable margherita pizza with fresh tomato sauce, creamy mozzarella cheese, and aromatic basil leaves on top, set on a rustic wooden board, surrounded by flour-dusted hands and a rolling pin, capturing the essence of the pizza-making process, with flour particles suspended in the air, and a warm, welcoming kitchen atmosphere, Realistic painting with a watercolor brush and textured paper, –ar 9:16 –v 5 –v 5 –upbeta –q 2
신선한 토마토 소스와 크리미한 모짜렐라 치즈, 향긋한 바질 잎을 위에 얹은 맛있는 마르게리타 피자는 밀가루가 묻힌 손과 롤링핀으로 둘러싸여 공기 중에 떠 있는 밀가루 입자와 따뜻하고 환영받는 주방 분위기로 피자 만드는 과정의 진수를 담아냅니다, 수채화 붓과 질감이 있는 종이로 사실적인 그림, –ar 9:16 –v 5 –upbeta –q 2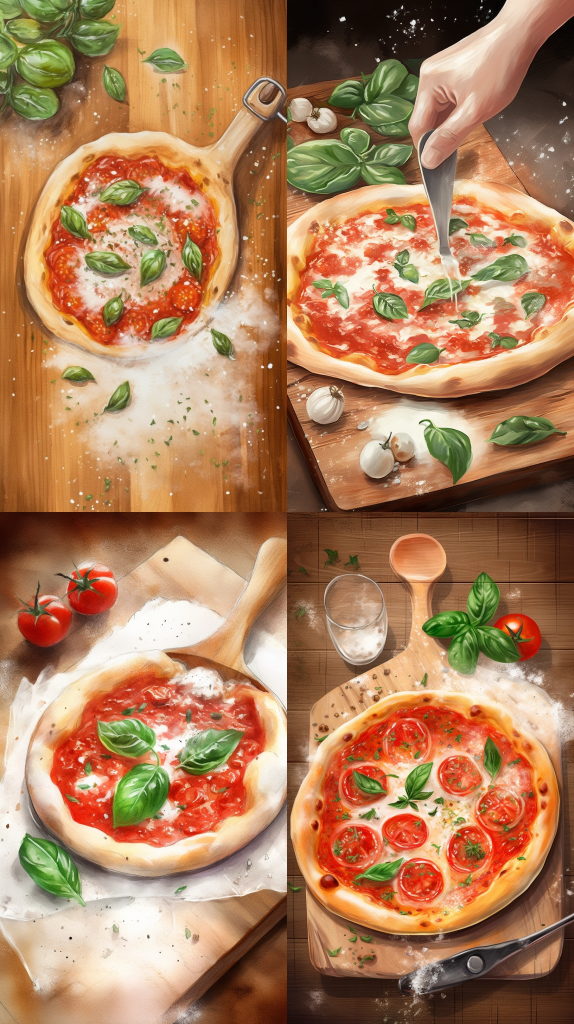 6) A freshly baked chocolate chip pizza on a wooden table, with hot gooey chocolate chips melting on top, surrounded by flour and baking ingredients, a warm kitchen environment, creating a cozy and comfortable atmosphere, Realistic photography with a macro lens, –ar 1:1 –v 5 –v 5 –upbeta –q 2
나무 테이블 위에 갓 구운 초콜릿 칩 피자, 위에 녹은 끈적끈적한 초콜릿 칩이 있고 밀가루와 베이킹 재료로 둘러싸인 따뜻한 주방 환경, 아늑하고 편안한 분위기 조성, 매크로 렌즈로 사실적인 촬영, –ar 1:1 –v 5 –upbeta –q 2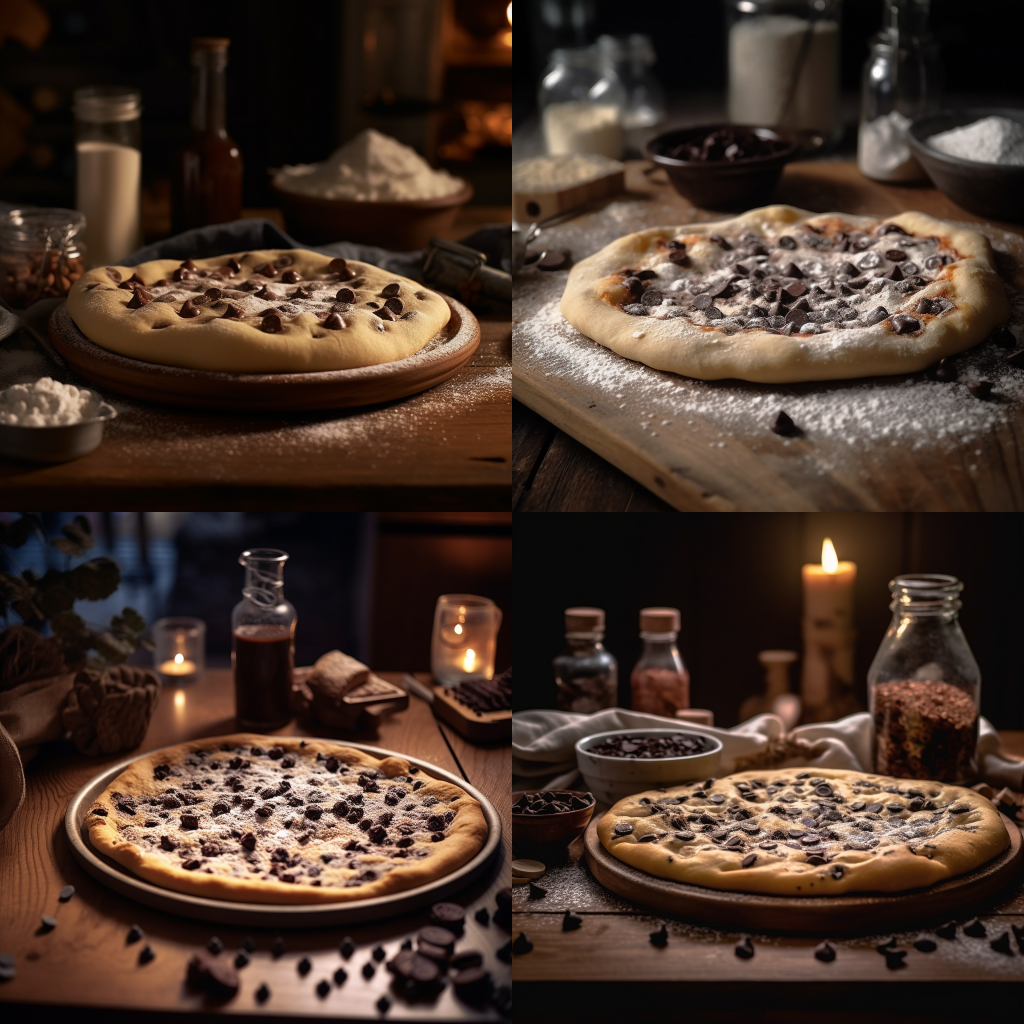 7) A slice of pizza with vibrant green basil leaves, juicy red tomatoes, and melted cheese oozing on top, on a rustic wooden cutting board, set against a backdrop of a bustling pizzeria kitchen with busy chefs and ovens, a lively and energetic environment, with the sound of sizzling and smells of deliciousness filling the air, Watercolor painting, with a focus on bold colors and textures, –ar 9:16 –niji –v 5 –upbeta –q 2
활기찬 초록 바질 잎과 즙이 많은 빨간 토마토, 녹은 치즈가 위에 배어 있는 소박한 나무 도마 위에 놓인 피자 한 조각은 분주한 요리사와 오븐으로 북적이는 피자집, 활기차고 활기찬 환경, 지글지글 소리와 맛있는 냄새가 가득 찬 공기, 수채화, 굵은 색과 질감에 초점을 맞추어 –ar 9:16 –niji –v5 –upbeta –q2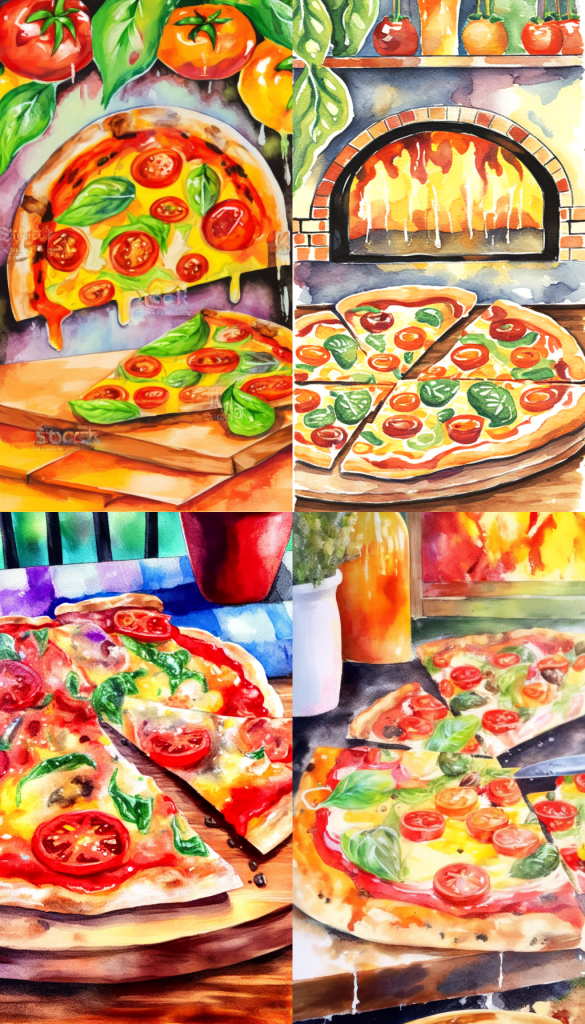 8) A pizza party on a sunny day, with friends gathered around a picnic table, enjoying slices of cheesy pizza, cold drinks, and laughter, in a beautiful outdoor park setting, surrounded by blooming flowers and green trees, creating a joyful and cheerful atmosphere, 3D rendered image with bright colors and playful shapes, –ar 16:9 –v 5 –v 5 –upbeta –q 2
화창한 날 친구들과 함께 피크닉 테이블에 모여 치즈피자 조각, 차가운 음료, 웃음을 즐기는 피자 파티, 아름다운 야외 공원 환경, 활짝 핀 꽃과 초록 나무로 둘러싸여 즐겁고 명랑한 분위기, 밝은 색상과 장난스러운 모양의 3D 렌더링 이미지, –ar 16:9 –v5 –v5 –upbeta –q2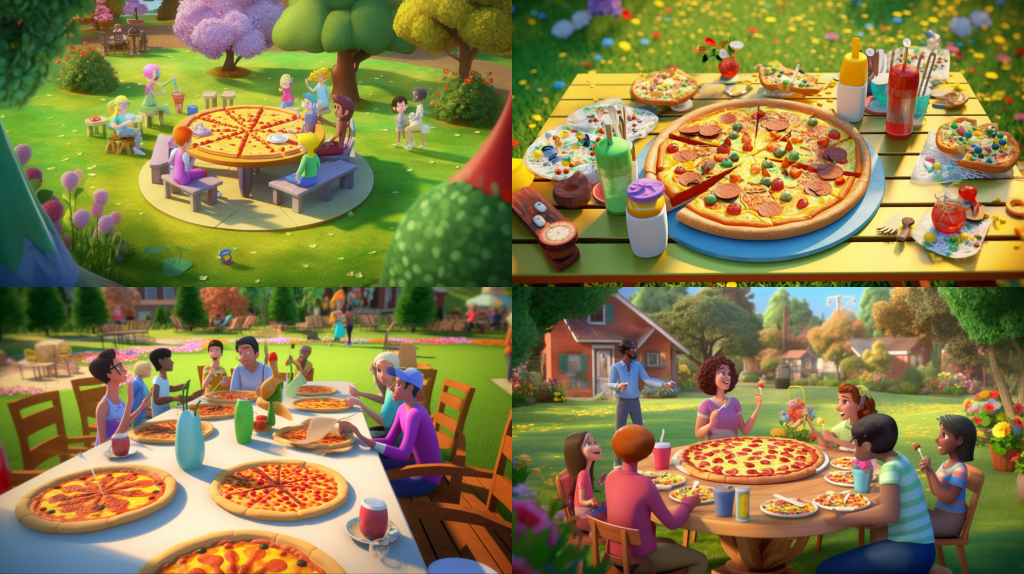 9) A gourmet pizza with unique toppings like prosciutto, figs, and goat cheese, placed on a sleek modern plate, against a backdrop of a contemporary dining room with minimalist decor, creating a sophisticated and elegant atmosphere, Detailed pencil sketch with emphasis on shading and contrast, –ar 9:16 –v 5 –v 5 –upbeta –q 2
프로슈토, 무화과, 염소 치즈 등 독특한 토핑을 얹은 미식가 피자, 날렵한 현대식 접시 위에, 세련되고 우아한 분위기를 자아내며, 음영과 대비를 강조한 디테일한 연필 스케치, –ar 9:16 –v5 –upbeta –q2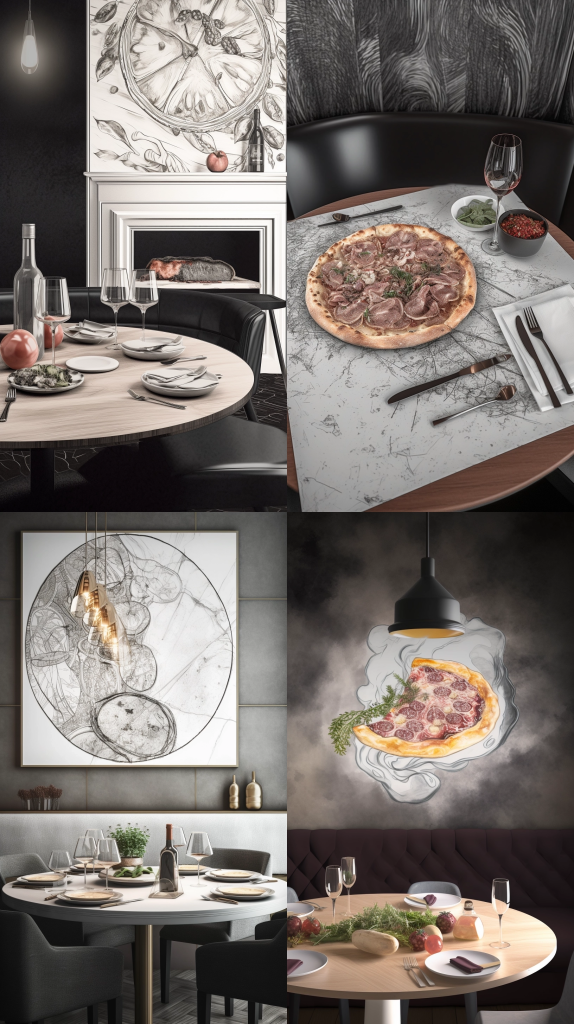 10) A mouthwatering pizza with melted cheese, pepperoni, and fresh basil, steam rising from the slice, sitting on a wooden board, surrounded by rustic plates and cutlery, a cozy home kitchen in the background, emphasizing comfort and warmth, Realistic photography, Canon EOS R6 with 50mm lens, f/2.8, –ar 1:1 –v 5 –v 5 –upbeta –q 2
녹인 치즈, 페퍼로니, 신선한 바질이 들어간 군침이 도는 피자, 슬라이스에서 김이 오르고, 나무 판자 위에 앉아, 소박한 접시와 커트러리로 둘러싸인, 편안함과 따뜻함을 강조하는 배경의 아늑한 홈 키친, 사실적인 사진, 50mm 렌즈를 사용한 캐논 EOS R6, f/2.8, –ar 1:1 –v5 –upbeta –q 2.2.1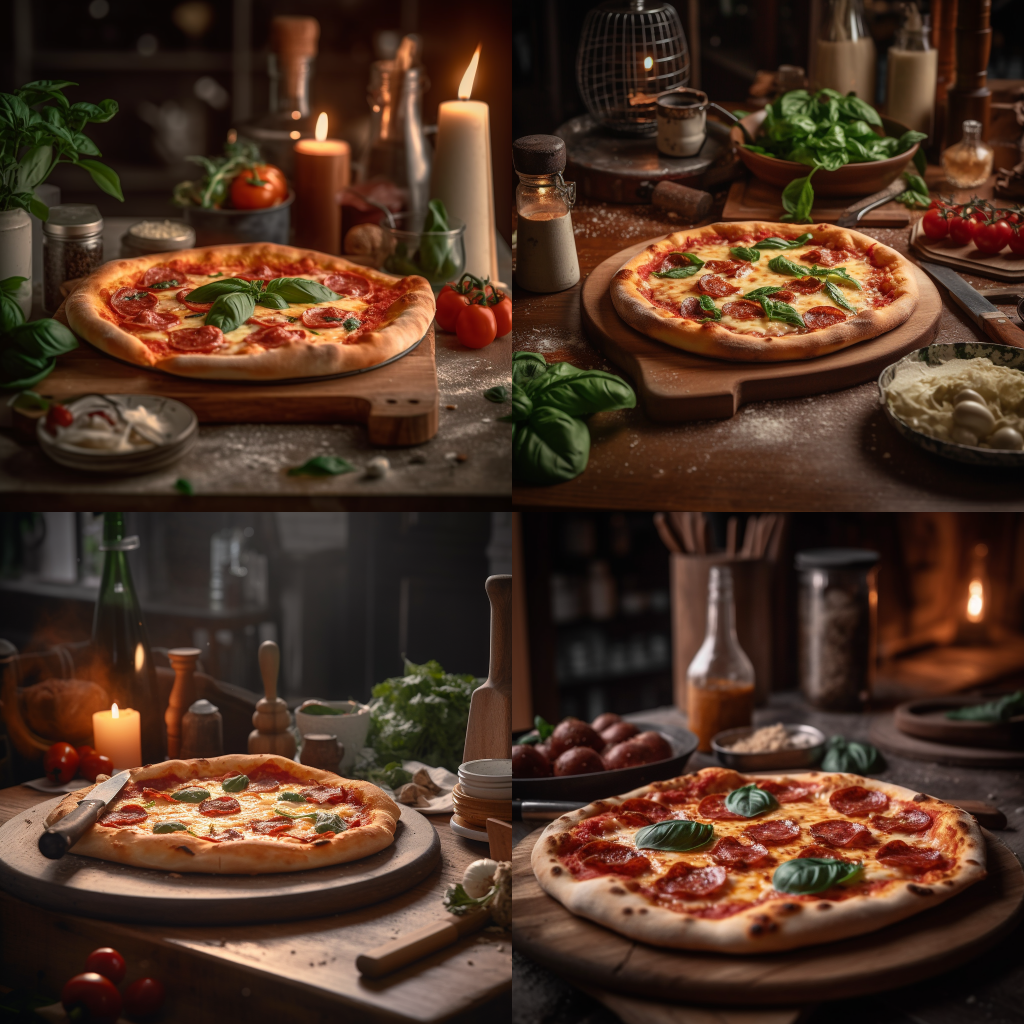 12) A colorful pizza with assorted vegetables, including bell peppers, mushrooms, and olives, freshly baked, sliced and arranged in a circle on a black plate, garnished with parsley and oregano, a modern minimalist restaurant in the background, emphasizing health and taste, Artwork, digital illustration, –ar 9:16 –v 5 –v 5 –upbeta –q 2
피망, 버섯, 올리브 등 다양한 채소가 들어간 알록달록한 피자, 검은 접시에 갓 구워 얇게 썰어 원을 그리며 건강과 맛을 강조한 현대 미니멀리즘 레스토랑 파슬리와 오레가노를 배경으로 고명을 얹고, 아트웍, 디지털 일러스트레이션, –ar 9:16 –v5 –upbeta –q 2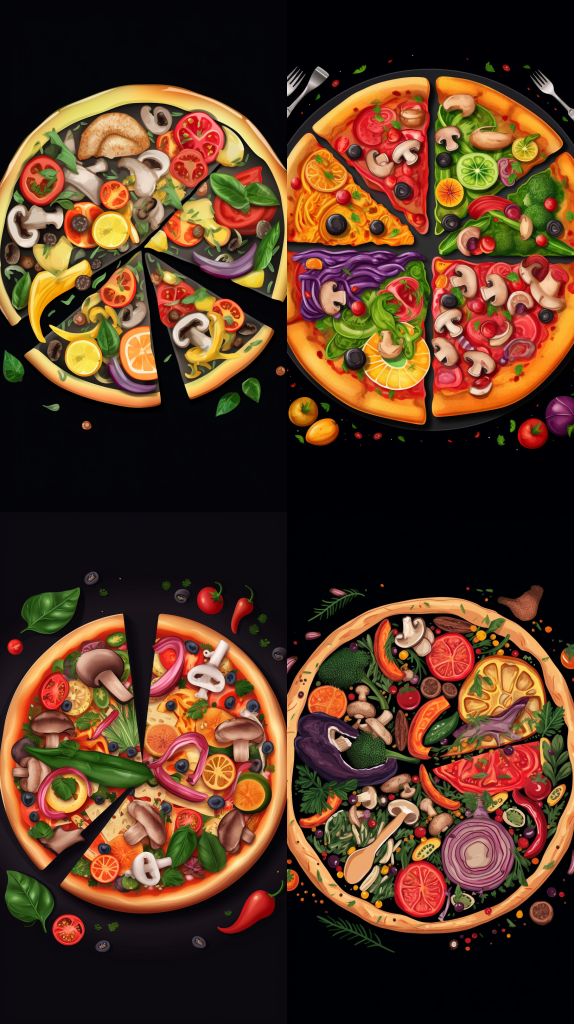 13) A delicious pizza with generous toppings of smoked salmon, capers, and dill, baked to perfection with a crispy crust, sitting on a marble countertop, surrounded by a rustic kitchen with hanging utensils and fresh ingredients, emphasizing sophistication and indulgence, 3D rendering, Blender software, –ar 16:9 –v niji –v 5 –upbeta –q 2
훈제 연어, 케이퍼, 딜을 푸짐하게 토핑한 맛있는 피자, 바삭한 크러스트로 완벽하게 구워내고 대리석 조리대 위에 앉아 세련미와 탐닉을 강조한 소박한 주방, 3D 렌더링, 블렌더 소프트웨어, –ar 16:9 –vniji –v5 –upbeta –q 2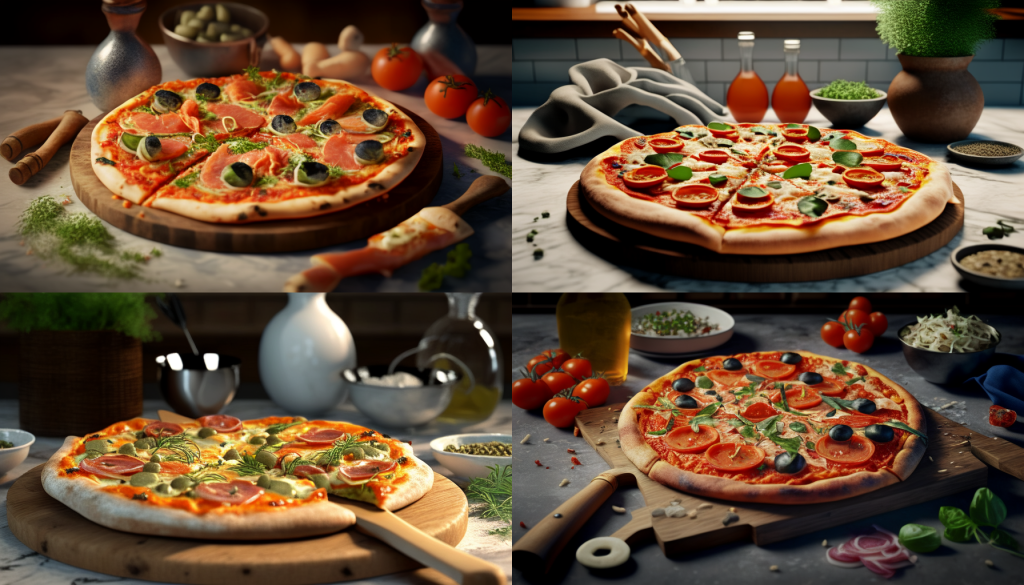 2. 키워드에 관하여 (구글 이미지 검색, 키워드 단어 설명)
1) 키워드 구글 이미지 검색
2) 키워드 단어 설명
A. 피자의 기원 (The Origin of Pizza)
피자의 기원은 고대 문명으로 거슬러 올라갈 수 있지만, 오늘날 우리가 알고 있는 현대식 피자는 18세기와 19세기 초 이탈리아 나폴리에 그 뿌리를 두고 있습니다. 당시 나폴리는 인구 밀도가 높고 번화한 도시였으며, 많은 주민들이 조리 시설이 제한적인 작고 붐비는 집에서 살았습니다.
당시 "피자"라고 불렸던 플랫브레드는 노동 계급에게 인기 있고 저렴한 음식 옵션이었습니다. 플랫브레드에는 보통 토마토, 치즈, 기름, 마늘, 멸치 등 간단한 재료가 토핑으로 얹어졌습니다. 아메리카 대륙에서 토마토가 도입되면서 현대 피자가 발전하는 데 중요한 역할을 했습니다. 처음에 유럽인들은 토마토가 독이 있다고 두려워하며 토마토에 회의적이었습니다. 하지만 시간이 지나면서 토마토는 피자를 비롯한 나폴리 요리의 주요 식재료가 되었습니다.
가장 대표적인 피자 종류 중 하나인 마르게리타 피자는 1889년 사보이의 마르게리타 여왕을 기리기 위해 만들어졌다고 합니다. 피자이올로 라파엘레 에스포지토는 이탈리아 국기의 색인 빨간색(토마토), 흰색(모짜렐라), 초록색(바질)을 상징하는 피자를 만들었습니다. 마르게리타 피자의 이야기는 다소 외설적일 수 있지만, 피자와 이탈리아 문화 사이의 강력한 연관성을 상징합니다.
피자는 이탈리아 이민자들이 20세기 초에 최초의 피자집이 문을 연 미국을 비롯한 전 세계 다른 지역으로 요리 전통을 가져가면서 이탈리아를 넘어 인기를 얻었습니다. 오늘날 피자는 여러 문화의 다양한 맛과 재료를 반영하여 수많은 지역적 변형을 거쳐 전 세계적으로 사랑받는 음식이 되었습니다.
The origin of pizza can be traced back to ancient civilizations, but the modern pizza we know today has its roots in Naples, Italy, during the 18th and early 19th centuries. At that time, Naples was a densely populated and bustling city, and many of its residents lived in small, crowded homes with limited cooking facilities.
Flatbreads, called "pizzas" at the time, were a popular and inexpensive food option for the working class. These flatbreads were typically topped with simple ingredients such as tomatoes, cheese, oil, garlic, and anchovies. The introduction of tomatoes from the Americas played a significant role in the development of modern pizza. Initially, Europeans were skeptical of tomatoes, fearing they were poisonous. However, over time, tomatoes became a staple ingredient in Neapolitan cuisine, including pizza.
The Margherita pizza, one of the most iconic pizza varieties, is said to have been created in 1889 in honor of Queen Margherita of Savoy. Pizzaiolo Raffaele Esposito crafted a pizza representing the colors of the Italian flag: red (tomatoes), white (mozzarella), and green (basil). While the story of the Margherita pizza may be somewhat apocryphal, it is a symbol of the strong connection between pizza and Italian culture.
Pizza gained popularity beyond Italy as Italian immigrants brought their culinary traditions to other parts of the world, including the United States, where the first pizzerias opened in the early 20th century. Today, pizza is a beloved global food with countless regional variations, reflecting the diverse tastes and ingredients of different cultures.
B. 아니 도대체 왜 피자는 이렇게 비싼가? 근래들어? 이러한 특별한 이유가 있나? why pizza is so expensive food in these days, is there any special reason?
최근 몇 년 동안 피자 가격이 상승한 데에는 여러 가지 요인이 있습니다. 가격 상승의 구체적인 이유는 지역과 개별 피자 가게에 따라 다를 수 있지만, 몇 가지 공통적인 요인은 다음과 같습니다:
재료비: 치즈, 밀가루, 토핑 등의 재료 비용은 원자재 가격, 가용성, 글로벌 수요 등 다양한 요인에 따라 변동될 수 있습니다. 예를 들어, 유제품의 경우 사료비 인상이나 우유 생산량 감소로 인해 가격이 상승할 수 있습니다.
인건비: 높은 임금과 직원 복리후생은 피자 가격 상승의 원인이 될 수 있습니다. 많은 국가에서 최저임금 인상과 근로 조건 개선이 추진되고 있으며, 이는 피자집을 포함한 비즈니스의 인건비 상승으로 이어질 수 있습니다.
간접비 및 운영 비용: 임대료, 공과금, 장비 유지보수 등 피자 가게 운영과 관련된 비용도 피자 가격에 영향을 미칠 수 있습니다. 인플레이션과 기타 상품 및 서비스 비용 증가는 간접비 상승의 원인이 될 수 있으며, 이는 가격 인상이라는 형태로 고객에게 전가될 수 있습니다.
품질과 장인 정신: 고품질 재료와 세심한 준비로 만든 피자는 프리미엄 가격을 책정할 수 있습니다. 장인 정신이 깃든 고급 음식에 대한 소비자의 관심이 높아짐에 따라 일부 피자 전문점에서는 더 높은 가격표가 붙은 고급 옵션을 제공할 수 있습니다.
공급망 중단: 코로나19 팬데믹과 같은 글로벌 이벤트로 인해 공급망에 차질이 발생하면 식재료 및 기타 자재 비용이 상승할 수 있습니다. 결국 이러한 비용 증가는 피자 가격 인상이라는 형태로 소비자에게 전가될 수 있습니다.
이러한 요인들이 피자 가격 상승의 원인이 될 수 있지만, 다양한 가격대의 다양한 피자 옵션이 여전히 존재한다는 점에 유의해야 합니다. 소비자는 냉동 피자나 슈퍼마켓 피자와 같은 저렴한 옵션은 물론 고급 피자 전문점에서 더 비싼 고급 피자나 스페셜티 피자를 찾을 수 있습니다.
Several factors contribute to the increasing cost of pizza in recent years. While the specific reasons for rising prices may vary depending on the location and individual pizzerias, some common factors include:
Ingredient costs: The cost of ingredients such as cheese, flour, and toppings can fluctuate due to various factors, including changes in commodity prices, availability, and global demand. For instance, the price of dairy products may rise due to increased feed costs or a decrease in milk production.
Labor costs: Higher wages and employee benefits can contribute to increased pizza prices. In many countries, there has been a push for higher minimum wages and better working conditions, which can lead to increased labor costs for businesses, including pizzerias.
Overhead and operating costs: The expenses associated with running a pizzeria, such as rent, utilities, and equipment maintenance, can also impact pizza prices. Inflation and increased costs for other goods and services can contribute to rising overhead expenses, which may be passed on to customers in the form of higher prices.
Quality and craftsmanship: Pizzas made with high-quality ingredients and careful preparation can command premium prices. As consumers become more interested in artisanal and gourmet foods, some pizzerias may choose to offer more upscale options that come with higher price tags.
Supply chain disruptions: Global events, such as the COVID-19 pandemic, can cause disruptions in the supply chain, leading to increased costs for ingredients and other materials. In turn, these increased costs may be passed on to consumers in the form of higher pizza prices.
While these factors can contribute to higher pizza prices, it's essential to note that there is still a wide range of pizza options available at various price points. Consumers can find affordable options, such as frozen or supermarket pizzas, as well as more expensive gourmet or specialty pizzas at upscale pizzerias.
Table of Contents
---
1) 유튜브 채널 – 2,500 구독자와 함께하는 유튜버 [ 큐레이터 단비 ]
– 유튜브 채널 '내'가 있는 유튜브와 블로그로 이루는 퍼스널 브랜딩 채널
2) 네이버 카페 커뮤니티
– [ 큐레이터 단비 – 퍼스널 브랜딩 커뮤니티 유튜브 온라인 수익화 방법 및 노하우 공유 ]


Hits: 3